Over 50 Years of Scholarship, Sisterhood, and Service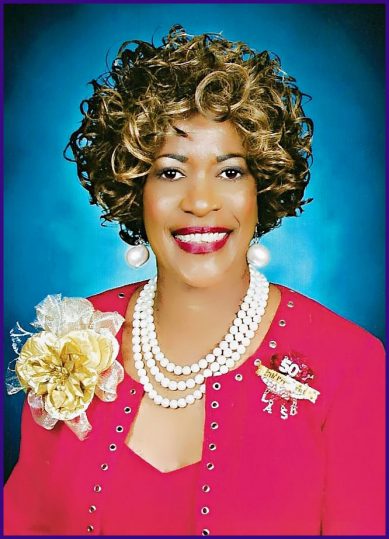 PRESIDENT'S MESSAGE
Greetings and Welcome to the Website of the Los Angeles South Bay Alumnae Chapter of Delta Sigma Theta Sorority, Inc., also known as the "Flagship of the Farwest." Los Angeles South Bay was chartered fifty-two (52) years ago in Gardena, CA, by sixteen dedicated and determined women who saw a need to have a chapter in the South Bay and South Central areas of Los Angeles after the Watts riot.
I, along with members of this chapter are grateful that you stopped by to visit. It is my hope that you will learn more about our chapter and the work that we are doing.
For the past forty-one (42) years, we have hosted our Annual Fashion Show and Scholarship Luncheon as our staple fundraiser. The proceeds from this and all other chapter sponsored fundraiser events enable us to award many scholarships to young deserving graduating high school seniors.
This year, we will also sponsor our second spring event, the "Western Cabaret at South Bay" on April 6, 2019. Please review the Events section of our website to learn more information about this exciting event.
Our chapter is very proud of the partnership we have with the City of Carson, CA.   We have partnered with numerous other organizations in getting out the vote, feeding the homeless, Handbags of Hope for women who are victims of domestic violence and provide supportive services to the women of the His Sheltering Arms Shelter for women and children escaping domestic violence. We strive to work closely with both elementary and middle schools throughout the South Bay area of Los Angeles to help combat illiteracy.
Los Angeles South Bay members are totally committed to the five point programmatic thrust of our sorority and the vision of our twenty-two (22) Founders.
Economic Development
Educational Development
International Awareness
Involvement, Physical and Mental Health
Political Awareness and Involvement
Our chapter's history has been a rich one in the Farwest Region. Members in our chapter serve on local, regional, and national levels of Delta Sigma Theta Sorority, Inc. as well as serve in elected and appointed positions in local and state government positions.
We hope that you will enjoy learning more about the great commitment we have for the community and for our youths. Visit often to learn about the upcoming community events sponsored by our chapter, review our picture gallery of community service, and be a part of the "Flagship of The Farwest" family. Your support is sincerely appreciated. Please feel free to contact me personally at lasb27prez@aol.com.
Enjoy the visit and be blessed!
Cynthia Giddens Hunter
Cynthia Giddens Hunter, President
Los Angeles South Bay Alumnae Chapter
"Standing for Something with 20/20 Vision Focused on Sisterhood, Service, and Scholarship"